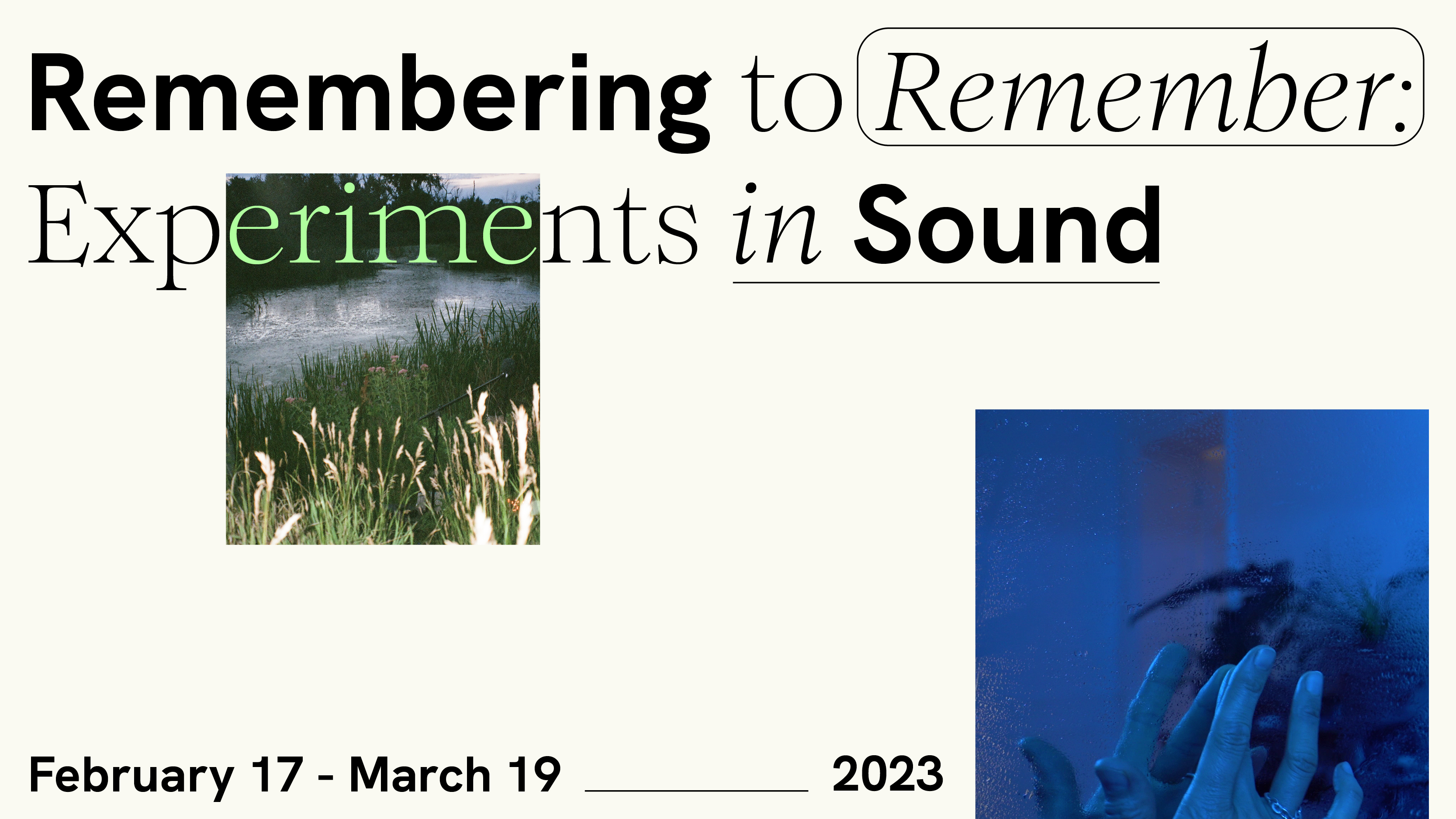 Remembering to Remember: Experiments in Sound
CURATED BY ROYA AMIRSOLEYMANI AND FELISHA LEDESMA

Exhibition Dates: February 17 - March 19, 2023
Opening Reception: Friday, February 17, 2023, 6:00 - 8:00 pm
Gallery Hours: Friday, 12:00–6:00 pm / Saturday & Sunday: 12:00–4:00 pm
— Modified Hours: March 3 & 4: 5:00–8:00 pm / March 5: 4:00–6:00 pm
Live Performances: March 3, 4, & 5
Workshops: February 18, March 6, and other various dates and times.

During your waking or sleeping life, bring yourself to attention with the thought "remembering and remembering to remember." You might find yourself listening backward in time to a sound that you didn't know that you heard!
— Pauline Oliveros, Deep Listening: A Composer's Sound Practice (2005)

Curated by Roya Amirsoleymani and Felisha Ledesma, Remembering to Remember: Experiments in Sound is a multifaceted program of 15+ international, national, and local artists spanning six live performances; five newly commissioned multichannel compositions; four film/video works at the intersection of sound and moving image; and one month of artist residencies, community workshops, and public engagements.

The container for this breadth of programming is an exhibition that will be on view at PICA from February 17 to March 19, 2023, with an opening reception on Friday, February 17, 2023, 6:00 - 8:00 pm. Artists include Adee Roberson, Alison O'Daniel, bone lattice, Crystal Quartez, Hiro Kone, Kite & Robbie Wing, Lucy Liyou, Nivhek, Nyokabi Kariũki, Reese Bowes, Saint Abdullah, Sholeh Asgary, Synth Library Portland, Takashi Makino, and Tomoko Sauvage.

Remembering to Remember is a collection and collision of impressions and inquiries. It recognizes the rich histories and vibrant communities of sound art in Portland while offering a dynamic experience of new and recent work in experimental sound across forms by artists from around the world.